Broken screen swapping


Have a working lcd with broken glass?
Thinking of getting a new replacement screen with your broken glass but working screen?
You can post or bring in your smashed glass but still working screens and we will swap them for remanufactured screens with brand new glass and frame.


Saving money
and reducing your carbon footprint has never been easier for you! You can make extra profit from repairs while helping the environment by recycling and reducing
mobile phone pollution
!



No fuss, simple as 1,2,3.
Please carefully wrap them and post to: PO BOX 173, ROSEBERY, NSW 1445, AUSTRALIA

After we receive the screens, It just takes up to 7 working days for us to test the screens and we will send you an email to confirm the result of qualified screens.

Order the

remanufactured screens

for the qualified screens, once confirmed we will send it out once payment is received.

Replacement screens will be provided as soon as possible when our stock permits.
Below are the models and retail price we charge for processing (wholesale discount up to 10%).
Please note the price may be changed according to the cost of the materials.
To avoid price problem, we suggest guests to fill in the request form before sending broken screens. All prices will be as quoted by the date you fill out the form.
If we didn't receive the form, quotes are priced as of the current date.
Please print out your completed form and attach it to your parcel. We will contact and confirm the model and quantity after your parcel arrived, in order to avoid the deviation in the amount.
| | | |
| --- | --- | --- |
| Price for remanufacturing: | Quality we accept | Swapping Price |
| iPhone 5 5S 5C | OEM only | $28 |
| iPhone 6 | OEM only | $34 |
| iPhone 6 Plus | OEM only | $36 |
| iPhone 6S | OEM only | $55 |
| iPhone 6S Plus | OEM only | $60 |
| iPhone 7 | OEM only | $80 |
| iPhone 7 Plus | OEM only | $90 |
| | | |
| Samsung Galaxy S3 i9300/i9305 with frame | Original LCD | $45 |
| Samsung Galaxy S4 i9500/i9505/i9506 with frame | Original LCD | $45 |
| Samsung Galaxy S5 G900i Black/white | Original LCD | $45 |
| Samsung Galaxy Note 2 N7100/N7105 with frame | Original LCD | $50 |
| Samsung Galaxy Note 3 N9005 with frame | Original LCD | $50 |
Updated 22 September 2017
*Please note: At the moment, we only accept OEM screens for swapping. We don't swap screens other then OEM screens. You may consider to sell those unqualified screens to us. Please check here: Sell broken glass but working screens

**If you have more than 300 pcs broken screens, you can send to our factory directly for refurbishing. The price will be much better than swapping, but you need wait for about three weeks for us to process.
***What We Are Looking For When Testing Screens:
Bad Back-Light
OEM Vs NON OEM
Dead Pixels (Considered DEFECTIVE)
Grey Area (Considered DEFECTIVE)
Lines (Considered DEFECTIVE)
Screen Burns (Considered DEFECTIVE)
Pressure Spots
Touch Functionality
*OEM or Non-OEM:
OEM screes in this article means those which come from Apple original phones. These broken screens come from phones which have never been previously repaired or only repaired in official Apple stores. Most of replacement screens are Non-OEM screesn.
*Pink screens:
We regard all the screens with QR code Engraved (not sticker) on the metal cover of the ribbon cable, and with single line serial numbers are pink screens. Although part of them are hard to find out the pink mark or a few of them are still good (haven't turned pink), the pink will show up after refurbishment or after a period of time
The pink marks are effects of LCD aging (please see the picture below).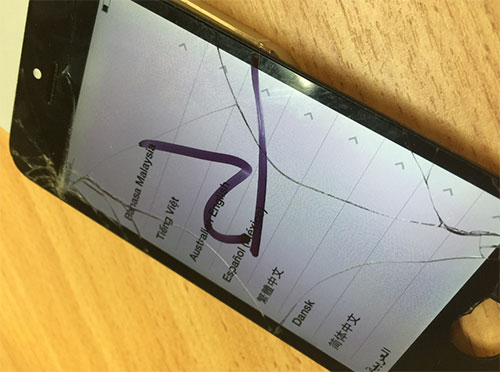 Shipping:

For orders more than 20 pcs, the return shipping is free. Otherwise we may charge a fee for express shipping.

Warranty:

The quality is guranteed as we test the screens one by one in our office.

We provide the re-manufactured screens with warranty as same as the new products: ONE-YEAR return to base warranty

. For more information please check: http://www.easyphix.com.au/warranty-policy

Terms:
1. We only accept original, no dead pixels or discolouration screens, which the display and touch function still work.

2. Generally we will replace with our stock of

remanufactured screens, because it takes time to remanufacture the the broken screens.



3. Items fail to meet our requirement will be returned to you or disposed upon your request.

4. If screens found non-original, we reserve the right not to process them. (e.g. original iPhone 4/4S touch screen cable has a "v" mark, and we will not process the ones without the mark)
Please click below to submit the request:
---