iPhone EPH Premium Hard OLED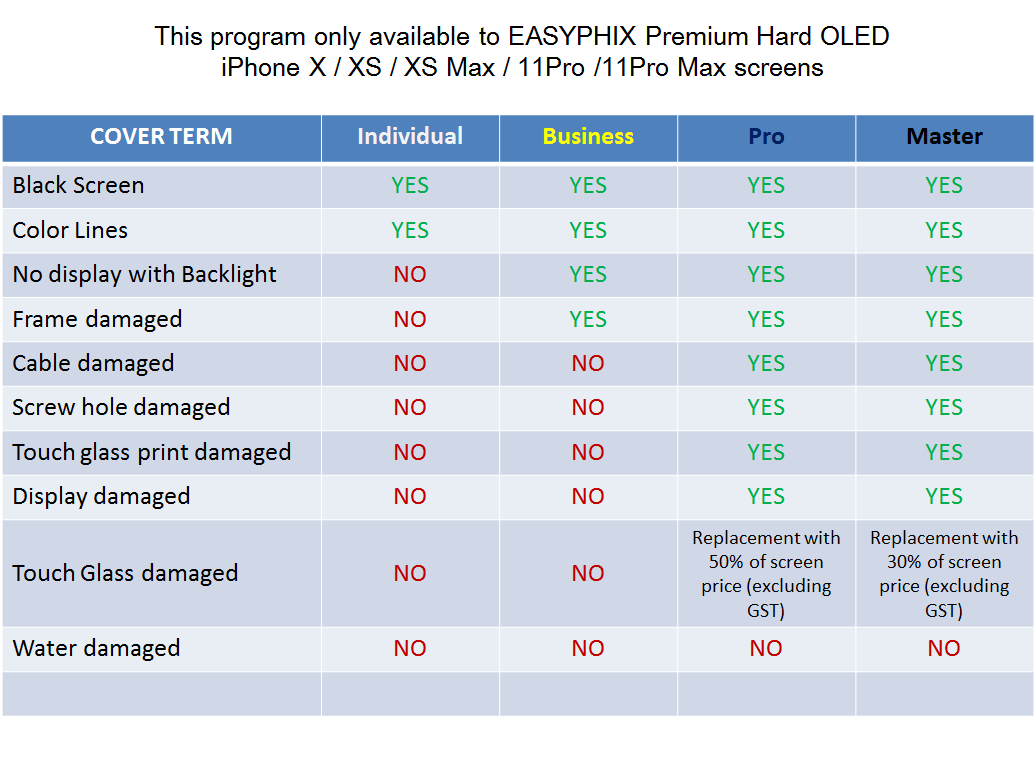 Hard OLED Screen Premium Cover Policy
Please see the above table for what types of damage can be covered based on different customer groups.

Cover Period for 6 months (From the date of payment)

EASYPHIX offer replacement only with same type of screen.

Replacement parts will be sent out immediately (stock permitting) after we receive and check the condition.

EASYPHIX uses unique identification mark and label on the premium hard OLED iPhone screens (currently model only available to iPhone X / XS / XSMAX / 11PRO / 11PRO MAX).

For the Premium cover screens, return shipping is not covered.
Cover term detail:
Black screen: no display and back light, full screen in black without any damaged mark.

Color lines: Colorful lines across the screen from the top to the bottom without any damaged mark.

No display with Backlight: could see the backlight still work but no display.

Frame damaged: screen frame damaged, frame corner screw rack damaged.

Cable damaged: the flex cable on the screen physically damaged.

Screw hole damaged: screen frame screw hole damaged or jammed.

Touch glass print damaged: front touch glass print scratched or damaged by the screw behind frame.

Display damaged: the inside display damaged with damaged mark.

Touch glass damaged: outside glass broken.